ÖH presents anti-inflation package "In Solidarity against Inflation"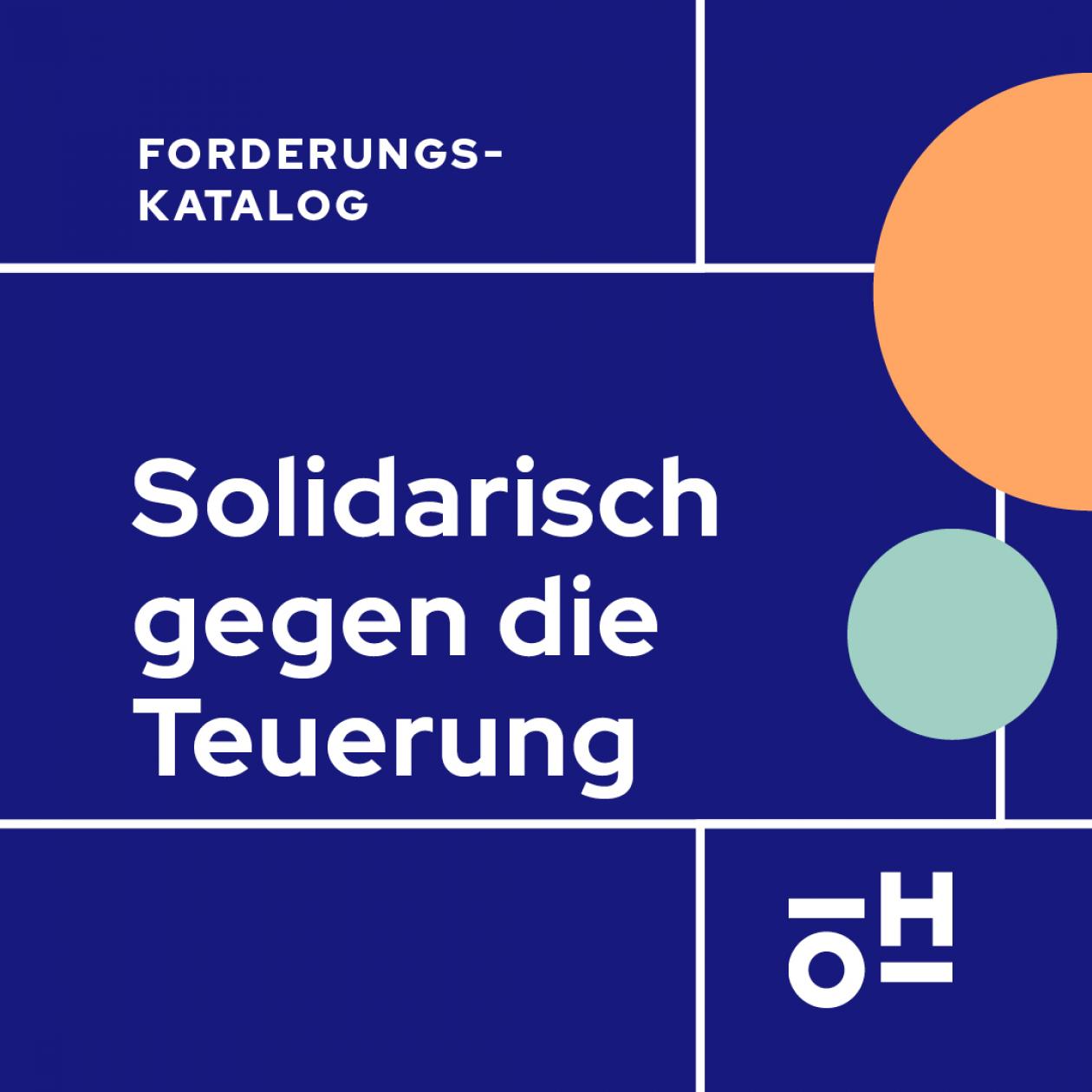 ÖH anti-inflation package "In Solidarity against Inflation"
The corona crisis, the climate crisis and now the fossil energy crisis and inflation are putting our future at risk. Our life experience can best be described as "Generation Crisis": We students are particularly hit by the effects of all these crises, many of us already live just on the poverty line and our future is anything but promising. But it doesn't have to be this way - ÖH is fighting for the students and is now pointing out political solutions that will secure our education financially and make student life affordable.
The inflationary dynamics resulting from the war of aggression on Ukraine, the Corona pandemic and the general economic system threaten the economic existence of students and will lead to countless students having to end their studies simply because they can no longer afford it.
Policymakers must prevent these consequences now and protect people from poverty without giving in to autocracy. That's why universities must be adequately funded, so that no one has to sit in a cold lecture hall in the winter or universities even have to close for cost reasons. Our universities are not your piggy bank! It can't be that universities can't afford to heat lecture halls and threaten society with mass layoffs while fossil fuel companies sit on record profits. If we don't speak up, politicians will continue to invest only in companies and ski lifts instead of in the survival of society. The bitter thing is that inflation does not hurt everyone equally: the poor get poorer, but the rich stay rich - or even profit additionally. While the already disadvantaged groups in society no longer know how to pay their rent and buy their food, corporations are making record profits on the backs of these groups. These profits must be returned, through fair taxation, to those who made them: all of us.
We say resolutely: Our future will not be speculated with!
At the same time, the climate crisis is getting worse every day. There is an urgent need for affordable solutions to tackle the climate crisis without driving people into poverty. Short-term measures alone are acutely necessary, but they will not solve the problem at its root and can therefore never be sufficient.
We want a socially just world in which no one has to fear the end of the month because again and again there is too little money left for food and heating. We want a free society - free from poverty, free from existential fears, free from climate destruction, free from injustice. We are sure: the "good life for all" can be reality and is not a romantic fantasy. That is why we fight for the abolition of tuition fees, climate justice, affordable housing and fair social benefits!
Student life must be affordable!
Students are a very heterogeneous group of people who are often not included in individual measures on the labor market or individual social benefits and can thus not benefit from them. Already during the corona pandemic, politicians forgot to relieve students. We must not allow the same mistakes to be repeated. Our education and thus our future is at stake!
A student grant that is enough to afford life
The first automatic inflation adjustment of student grants from the third anti-inflation package is an important step. This must be implemented in law for an unlimited period and not be up for debate year after year. Inflation is not a phenomenon that will only be with us now or in the next few years, but a continuous challenge that we can and must address politically now. In addition, we need to expand student grants so that students can actually be supported in all realities of life. This includes a general increase in study grants, an abolition of the age limit, access for students from non-EEA countries and an adjustment of the period of entitlement to the standard period of study. In addition, the government must fulfill its duty and make the aid better known and more low-threshold, so that all students can use this support possibility!
General rental cap
Housing costs are the largest expense students face month after month. Even before the current inflation, rent prices that are far too high have driven students into poverty. Especially for students who live far away from university locations, housing is a huge barrier to even considering studying.
It must finally be ensured that every student can afford housing. This requires a series of control measures and support services, such as a general cap on rents and costs for student residences. It is also high time for the introduction of a housing vacancy tax.
Energy cost subsidy
Heating and electricity costs are already a major financial burden for students. With inflation, costs are expected to increase multiple times. Students cannot afford these costs. Before students get into even greater financial difficulties because of these costs, or even have to abandon their studies, they need a subsidy for incidental costs. Here and with other support measures on the subject of housing, students in student dorms or students who have registered their place of residence at the place of study as a secondary residence must not be forgotten for bureaucratic reasons and thus disadvantaged.
Abolish tuition fees
Tuition fees have always been an unnecessary and deterrent financial burden for students and also contribute enormously to social selection at Austria's universities. For the ÖH it is clear that free and open university access can be the only way to fair and affordable universities. It is never reasonable, but especially not now, while life is becoming more expensive, to continue to charge tuition fees that are crucial for a person's fate and merely a drop in the bucket for the universities. Therefore, we demand the abolition of all tuition fees for EEA and non-EEA students, as well as an immediate refund of the tuition fees for the past summer semester.
**Climate ticket without costs **
The ÖH student survey in February 2022 showed that public transport plays a very important role for students in their daily lives and in combating the climate crisis. Students want public transport, students need public transport. But unfortunately, public transportation is also a big cost issue that is not affordable for everyone, especially since in many regions the public transport network is not developed enough to get completely away from the car. It is urgently time that everyone has access to free and good public transport! We demand the free climate ticket for students.
Universities must not be economized!
In the pandemic, universities were the first institutions to close completely and among the last that could reopen. A similar debate is now being conducted again around universities. In the process, however, politicians latently disinterested in science are forgetting the immense importance of universities and their students for society. The inflation will hit the universities hard - which is why measures are needed now to maintain higher education as the foundation of the state. In all steps to be taken, it is essential that students, as a group directly and particularly affected, are involved and given a voice in all decisions.
Cover additional costs of universities - compensate now!
Public universities must be compensated for the additional costs arising from inflation. The Austrian Universities Conference expects a budget gap of at least € 475 million. Several universities have already announced that the expected costs will cause financing problems that will otherwise have to be compensated by measures such as mass layoffs of employees. Such measures affect students in particular: as study assistants, tutors or research staff, they are usually the first to be hit by layoffs. Staff cuts, whether in the academic or non-academic sector, also have a direct impact on students. Apart from that, the dismissal of employees cannot be an option since it is necessary and, above all, the state's duty to finance the universities adequately.
Short-term assumption of heating and electricity costs
The first universities are announcing that they will go back into distance mode in the winter semester. However, not because of the still ongoing Corona pandemic, but because they are confronted with enormously rising heating and electricity costs due to the current situation, which they cannot handle on their own. The closure of universities due to inflation is already under political discussion - but closing universities because they cannot be heated is unacceptable. Therefore, heating and electricity costs at universities must be covered by the public in the event of a crisis.
Valorization of student place financing
Expenses at universities are rising massively due to inflation. Nevertheless, the amount of student place financing always remains at the same level. Thus, there is no more revenue for more expenditure. This type of financing means that the acute financing problems of the universities will be dragged out into the coming years and will continue to worsen. We therefore demand that student place funding also be adjusted to inflation and thus increased.
Renegotiation of financing agreements
During the Corona pandemic, public universities were granted a small discount in the financing agreement to cushion the impact of the pandemic and prevent the threat of repayment. A similar mechanism is needed now. The impact of inflation on performance indicators is impossible to assess - yet there is no denying that universities are headed towards massive funding problems. Renegotiating the financing agreements is one means of preventing these funding problems. However, such measures can at best serve as short-term solutions to acute problems. In the long term, a new system of university funding is needed that ensures full state funding of universities. This must not be based on performance-oriented principles, but rather on the quality of teaching and research and the universities' responsibility for the challenges of our time. To ensure long-term improvement, additional or substitute indicators for the achievement of climate goals by universities must be included in the agreements. This would provide incentives for a more energy-efficient operation of the universities and force them to be in line with the Austrian climate goals. In the medium to long term, this will save costs and reduce fossil fuel dependency.
Universities as a space for all
As public places, universities should not only be available to students and staff, but should also be accessible to society as a whole. Especially in winter, there is a need for heated spaces where people can spend time. As a place of curiosity, knowledge and encounters, universities are particularly suitable for this purpose and should therefore open their doors in solidarity with society as a whole.
This content is also available in
Share this