#flattenthefees: Our Demands for Relieving Students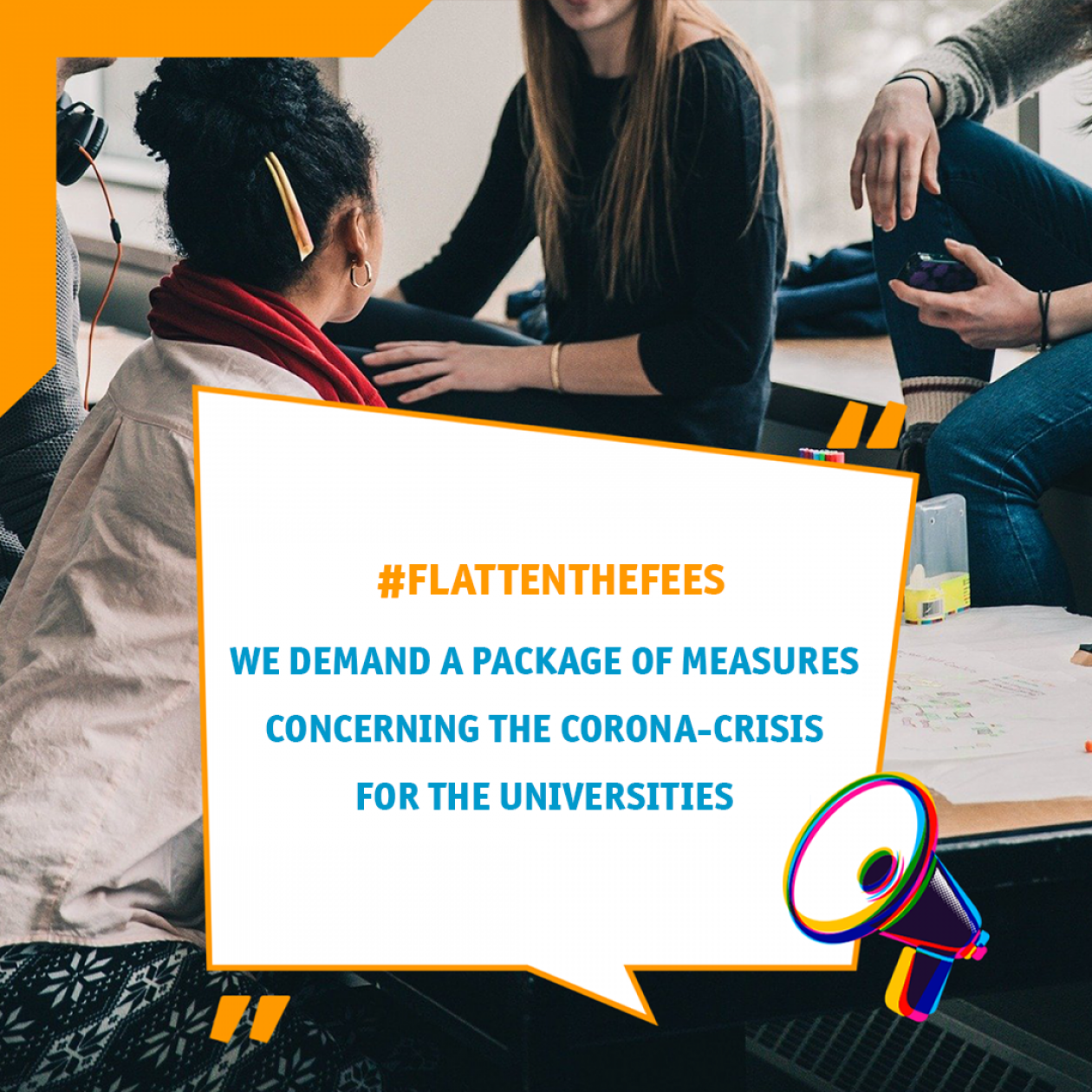 On Monday (23.02.2020) we first presented our package of measures to the Secretary of Education and Sience, Mr. Faßmann, in order to prevent students from being left unheard in this crisis. We've joined forces with the Ministry of Science and local students' unions and are currently working on ensuring that the Coronacrisis will not have any negative impact on students!
Support our message --> declaration of support
---
So, universities will be closed for at least one month. "Distance Learning" has been implemented from March 13 to April 13 – or rather: should have been. While universities and the federal government are proudly talking about digitalizing academic teachings, students are receiving nothing but e-mails by stressed out professors, links to TedTalks or instructions to "just acquire the whole semester's subject matter" by one's self. Digital Teaching can obviously not substitute attendance teaching!
The current situation brings other drastic consequences for students, apart from struggles with "Distance Learning" – when in fact we need one thing more than anything else: security and certainty.
We need certainty, that we're not going to lose any additional "tolerance semesters".
We need to continue receiving our financial aids and grants.
We need our tuition fees to be refunded or forgiven.
This is not "just" about losing academic progress. We're talking about students' livelihoods!
To us, it's obvious: There must not be any negative consequences for students!
We're demanding the following:
• an additional two "tolerance semesters" (at least)
• an adaption of the laws concerning students' grants to make sure no one loses their grants
• an adaption of the laws concerning the duration of eligibility for financial aids, adding at least two semesters
• refunding the tuition fees for this semester, as well as forgiving them for the next semester (also for students from third countries)
• regulations for exams during the summer months, to ensure three dates per semester
• regulations for discontinued degrees in support of affected students
• no negative consequences, but privileges, for students who are now working as military or civilian servicepeople
• no negatives consequences for students from third states, especially regarding their residence permits
These measures are only the first step, but there is more to come. Corona surprised all of us. That's why we need quick and effective solutions for the education sector. We're ready to work with universities and politics!
You can support our mission. Sign our demands and share them using the hashtag #flattenthefees.
Together we will fight for our rights!
This content is also available in
Share this